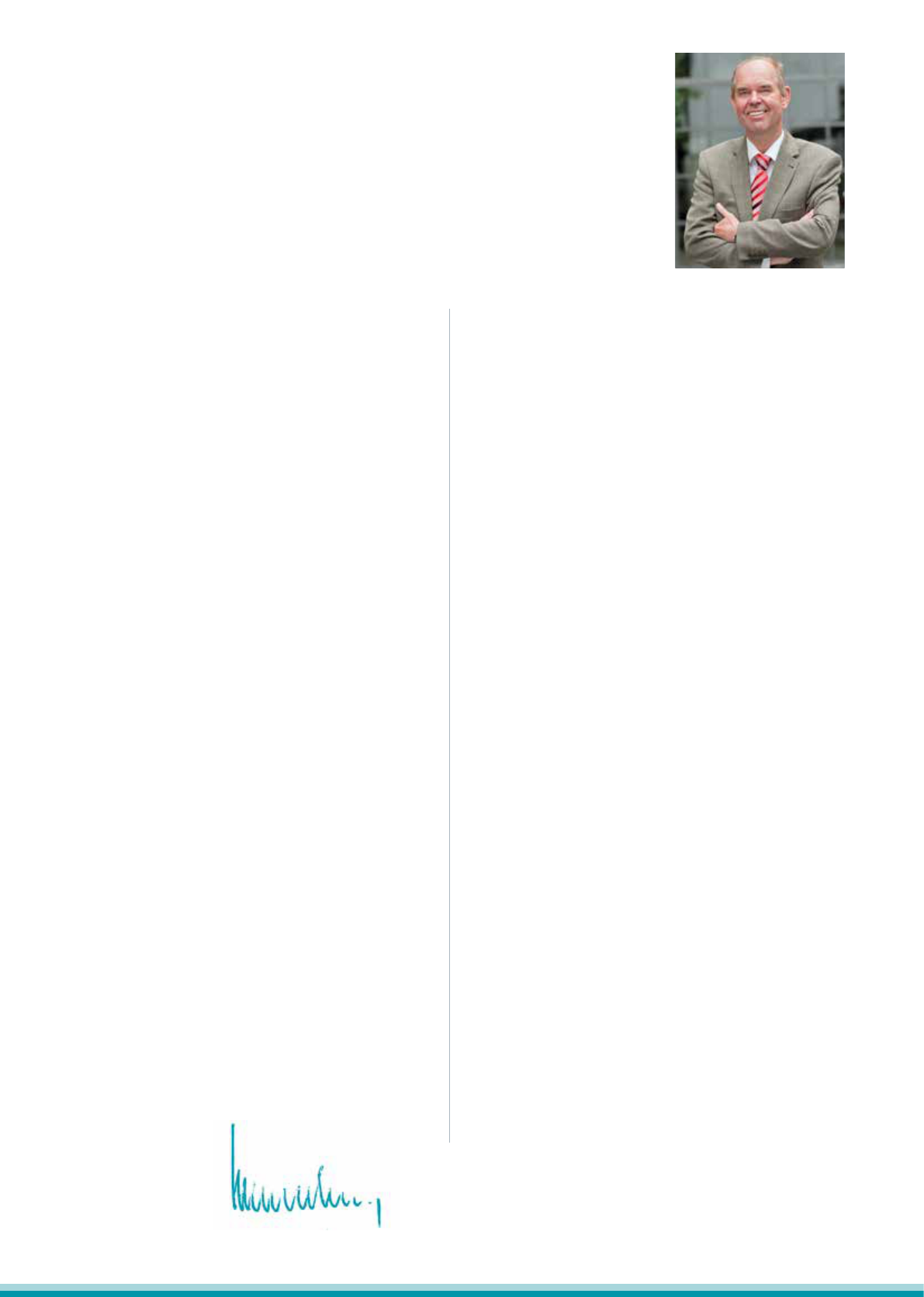 Wilhelm W. Schmidts
Geschäftsführer / Managing Director
LIEBE KUNDEN UND INTERESSENTEN,
DEAR CUSTOMERS AND PROSPECTS,
zunächst einmal möchten wir die Gelegenheit nutzen, Ihnen für
Ihr Interesse und das Vertrauen, das Sie uns entgegenbringen,
zu danken. Gleichsam freuen wir uns, Ihnen mit dem vorliegen
-
den Katalog unsere gesamte Produktpalette im neuen Gewand
präsentieren zu können.
Wie Sie wissen, liegt die Expertise unseres Unternehmens, das
bereits auf eine fast 100jährige Geschichte zurückblicken kann,
in der Herstellung von Einzelkomponenten und Komplettsystemen
zur Oberflächenbeschichtung und Klebstoffverarbeitung.
Zur Verarbeitung von Farben und Lacken bieten wir Hand-Spritz-
pistolen, Automatik-Spritzpistolen, luftunterstützte Airless-
Systeme, Materialbehälter, Rührwerke und Pumpen. Ebenso
gehören Atem- und Arbeitsschutz, Absaugsysteme, Reinigungs
-
technik sowie Zubehör zu unserem umfangreichen Portfolio.
In der Produktsparte Kleberverarbeitung führt unser Traditions
-
unternehmen Hand-Spritzpistolen, Automatik-Spritzpistolen,
Pumpen zur Förderung niedrigviskoser oder hochviskoser Mate-
rialien und Absauganlagen sowie Spritzstände oder Spritzwände.
Im Bereich der Materialförderung lösen wir gemeinsam mit
Ihnen fast jede Aufgabe: Neben den vielfältigen Pumpen ist
insbesondere das umfangreiche Produktportfolio der Druck-
behälter hervorzuheben. Über das Standardprogramm hinaus
gibt es eine Vielzahl an Möglichkeiten, Kundenwünsche exakt
zu erfüllen.
ten, sondern auch Systemlieferant: Von Kleinspritzgeräten bis zur
kompletten individuell zugeschnittenen Gesamtlösung, von der
Beratung bis zur Realisation, bieten wir Ihnen Knowhow und die
Gewähr einer sicheren und leistungsfähigen Produktionsanlage.
Awalther-pilot_erundet wird unser Leistungsspektrum durch Systeme für
Punkt-und Strichmarkierungen sowie Systeme mit Signier-
blöcken zur Kennzeichnung. Zum Signieren und Markieren hält
WALTHER PILOT für Kunden, Materialfördersysteme, Signier-
pistolen, Farben und Tinten bereit.
Wir freuen uns, wenn Ihnen unser neuer Katalog und natürlich
unser Produktspektrum zusagen. Sprechen Sie uns an, wir
erstellen Ihnen gern ein individuelles Angebot. Unsere Vertriebs
-
mitarbeiter im Innen- und Außendienst freuen Sich auf Ihre
Anfrage. Wir beraten Sie gern.
Beste Grüße
Ihr
let me start by thanking you both for your interest and for
the trust you have placed in us. We are happy and proud to be
presenting our entire product line in the current catalog – in
a new appearance.
As you may know, our company can now look back upon
almost a century in existence. In that time it has accumulated
expertise in manufacturing individual components and com-
plete systems for surface coating and painting and for applying
adhesives.
Whenever you apply paints and enamels, we can supply manual
and automatic spray guns, air-supported airless systems, and
drums, agitators and pumps for the materials. Also included in
our extensive line are respiratory and occupational safety equip-
ment, spray booths and extraction systems, cleaning techniques,
and accessories.
In the sector devoted to adhesive application, our company
delivers manual and automatic spray guns, pumps to move
low- and high-viscosity materials, extraction systems and spray
booths.
Where materials displacement is the issue, we can work with
you to solve virtually every task. In addition to a diversity of
pumps, the extensive line of pressurized drums is worthy of
special mention. And, beyond the standard spectrum, there is a
multitude of possibilities for meeting customer wishes exactly.
But Walther Pilot is not just a vendor of individual components.
It also supplies complete systems. From small spray guns
through to complete and individually tailored overall solutions,
from consulting through to realization – we offer you our know-
how and guarantee a reliable, high-performance production
system.
Our range of products is rounded out by systems to apply dots
and lines as well as systems including marking blocks to
identify items. Walther stocks the marking guns, colors and
inks used for marking.
We would be glad to know that our new catalog and, of course,
our product line finds your approval. Please get in touch with
us. We would be more than willing to prepare an individualized
offer. Our sales force, both at headquarters and in the field,
would appreciate receiving your inquiry. We look forward to
providing our expert advice.
Sincerely yours,